Arrival
By plane
To travel to Dresden, it might be the easiest way to go by plane via Frankfurt, Munich or Düsseldorf. A few direct flights might also be available, e.g. from Zurich.
The S-Bahn line S2 is the fastest connection between Dresden airport and the city (20 min to Dresden main station). It leaves the Airport station in the lower ground floor of the terminal building approximately twice per hour, not at night. A single ticket in the Dresden fare zone costs €2,30 (valid on S-Bahn, tram and bus). Tickets can be obtained at the machine at the station or from the airport information desk in the airport terminal.
Furthermore, a taxi ride from the airport to the city center is about €30 and takes 20-25 minutes.
By train
Dresden has regular train connections to Prague, Berlin, Frankfurt and other big cities. Also City Night Line trains stop in Dresden.
How to get there?
Venue
OncoRay - National Center for Radiation Research in Oncology
House 130
Händelallee 26
D-01309 Dresden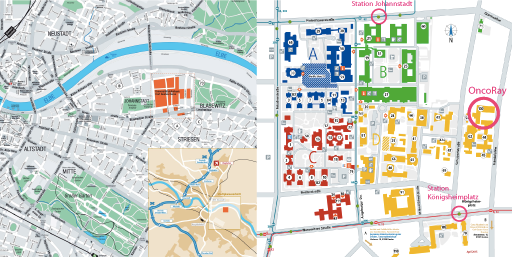 (click to enlarge view)
Public transport in Dresden
Dresden offers a well-organized public transport system. Network maps, timetables, information about connections and fares are available at the DVB-website.
Single tickets, valid for 1 hour in one zone, cost €2,30; 4-trip tickets are available for discount prices; One-day-tickets are worth buying when you plan to make more than two trips on one day.
Use either the tram (line 6 or line 12) to reach the station Königsheimplatz in 5 min walking distance to the OncoRay or the bus (line 62) for station Johannstadt in 10 min walking distance to the OncoRay.
Contact
In case of any questions or if you require further information and assistance, please don't hesitate to contact us:
Christian Richter: christian.richter[at]oncoray.de
Kristin Stützer: kristin.stuetzer[at]oncoray.de